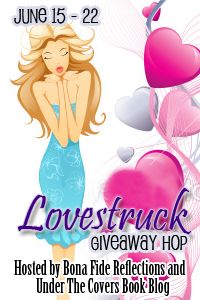 LOVESTRUCK GIVEAWAY HOP
Hosted by Under the Covers and Bona Fide Reflections
Blog hop runs from 12:01 AM June 15th through to 11:59 PM June 22th, 2012.
Love-struck: (adjective) having a passionate or overwhelming feeling of love; smitten
Is there a book or a series that you have read which has left you completely smitten? A hero/heroine that makes other heroes/heroines pale in comparison to the feelings you have for your "true" love? Are you left feeling dissatisfied because there is just nothing else that can compare?
Giveaway #1: Grill Me, Baby by Sophia Knightly (U.S., Canadian, and International Residents may enter)
Giveaway #2: Temptress by Lola Dodge (U.S., Canadian, and International Residents may enter)
Giveaway #3: Cost of Repairs by A.M. Arthur (U.S., Canadian, and International Residents may enter)